Get GOAL JUICE Method For A
Very Special

Limited Time Discount!!
BY FAR the simplest and fastest path to
achieving extraordinary results.
Time left before offer expires:
Grab the premium version of
GOAL JUICE for a once-only, crazy good price as part of our
CYBER MONDAY special offer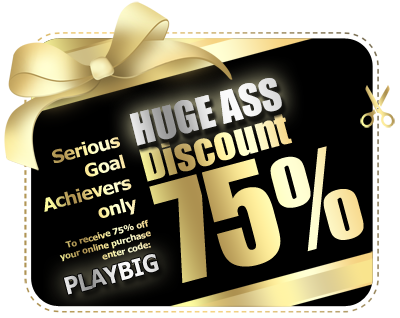 Get a jump on the New Year
with the most effective Goal Achievement program on the planet.
Enter code PLAYBIG in the shopping cart to receive this incredible offer!
I used to think just setting goals, and writing them down along with whole lot a HOPE was enough…
"This year I'm going to start my own business…"
"This year I'm buying a new freaking car…"
This year I'm going to get into great shape…"
only to wind up driving the same crappie old car, working for the same crappie old boss
and living with the same chunky ass body again the next year…
It wasn't just frustrating…
It was demoralizing!!!
I knew I deserved better… and so do you...
But that feeling is back again isn't it?
That nagging, anxious, uneasy feeling you get when the New Year is rapidly approaching and you realize you haven't achieved everything or perhaps anything you wanted to this past year…
And that it's too late…
11 months have flown by and all you can do now is hope like hell that Next Year will be different.
You hope so anyway...
you and I both know...
Hope isn't enough!!!
We need a system if we are ever going to make those dream happen...
Hi, I'm Tom The author of the #1 bestselling 7 Rules of Achievement
And I've been there.
So I have a gift for you that can change all that…
I want to give you a digital copy of my #1 bestselling book 7 Rules of Achievement absolutely FREE
The book has transformed the way tens of thousands of people just like you and I think about our dreams and more importantly how we can turn them into a reality…
And I "guarantee" it will fundamentally transform the way you set, pursue and achieve your dreams too....
The book is a $20 value and it's your absolutely FREE.
Here's the catch.
The book is a gift for trying my new Goal Juice Training Method for a full 30 days…